Discover a deep talent pool.
Physicians who are recruited to join New England Inpatient Specialists are chosen for their diverse medical knowledge and experience. The ability to draw from their collective medical expertise has proven to be an invaluable resource when it comes to diagnosing and treating the patients that are admitted to our team of inpatient specialists.
We look forward to meeting and working with you.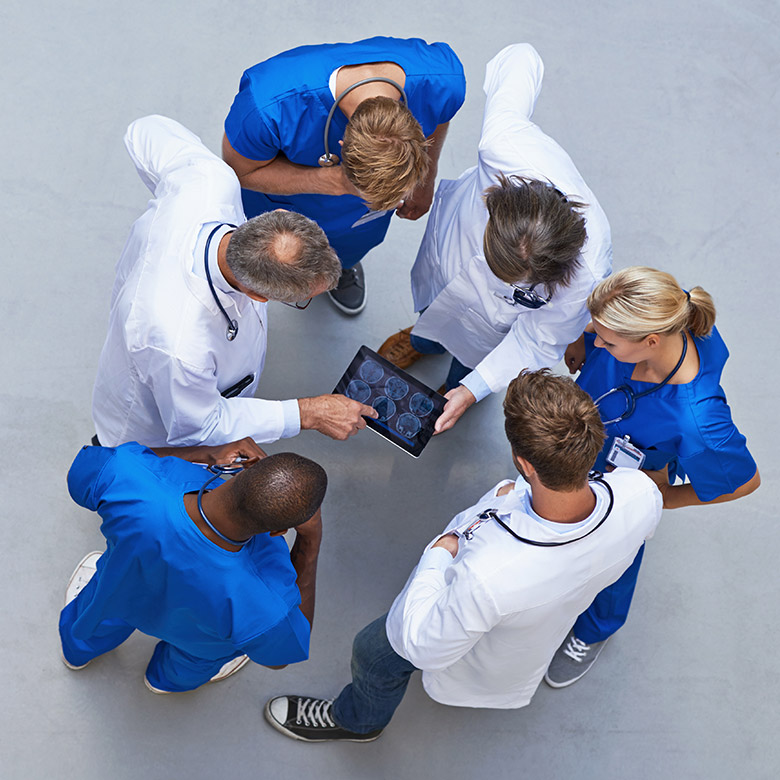 Experience clinical diversity.
Enjoy a rich, clinical diversity of cases and diagnoses combined with the challenge of caring for higher-acuity patients. Within each of our hospitalist programs, you'll find opportunities to interact with senior hospital management and physicians across multiple departments.
With NEIS, you are part a vital member of a hospital team — serving on key committees, engaging with staff, patients and families and delivering care that makes a meaningful and measurable difference.
Work/life balance. Experience it with NEIS.
At NEIS, our hospitalists work a family-friendly environment and culture alongside a collegial group of professionals. Clinicians are given schedule options that best meets their individual needs in terms of commute times, family obligations and clinical interests or pursuits.
Join the NEIS family and practice elite medicine in a thriving, forward-looking team. We're close to Boston and closer to the opportunities you seek.
Watch our video on what it is like to work at NEIS
NEIS is hiring!
For any recruitment questions, please contact Theresa Peluso, email tpeluso@neinsp.com
We are actively recruiting physicians for both Full-Time Day and Full-Time Night shifts at all of our locations. If you are interested in joining the NEIS team, please fill out the form below and upload a copy of your updated CV.
NOTICE OF FILING APPLICATION FOR PERMANENT EMPLOYMENT CERTIFICATION
Please note that New England In-Patient Specialists ("NEIS") currently seeks ONE individual to fill the position of ICU Intensivist. This notice is being provided as a result of filing an application for permanent alien labor certification for this job opportunity. DUTIES: perform admissions, discharges and transfers to and from ICU/CCU/Floors; attend to all critical care inpatients; direct and coordinate patient care activities with nursing & support staff; care for ICU patients by establishing initial diagnosis, formulating assessment and plan for the ICU stay and performing any necessary procedures such as endotracheal intubation, central line placement, arterial line placement and other life saving procedures as needed; perform ventilator management for patients on ventilators; follow comprehensive guidelines for improved patient outcomes such as increased survival rates, reduced complications, shorter lengths of stay in ICU and enhanced medication safety; consult appropriate specialists and ancillary staff (physical therapist, speech therapist, case management) and coordinate care; respond to all Code Blue situations and provide immediate evaluation and management of complex situations as team leader running Code Blue; participate in all appropriate conferences and committees; share call with other physicians; dictate and sign reports in timely manner; complete billing paperwork; answer all pages from 7 A.M. to 7 P.M. and report for work from 9 A.M. to 5 P.M. onsite Monday through Friday.
QUALIFICATIONS: M.D. or foreign equivalent, 2-year fellowship training in critical care, license to practice medicine in Massachusetts, board certifications in both Internal Medicine and Critical Care and residency in Internal Medicine. WAGES: $275,000 per year. LOCATIONS OF EMPLOYMENT AND NOTICE POSTING: Heywood Hospital: 242 Green Street, Gardner, MA 01440; Athol Hospital, 2033 Main Street, MA 01331; Holy Family Hospital, 70 East Street, Methuen, MA 01844; Holy Family Hospital/Merrimack Valley, 140 Lincoln Street, Haverhill, MA 01830.
Interested applicants may contact Judy Hanson, Human Resources and Administrative Assistant at NEIS by mail at 47 High St. Suite 101 North Andover MA 01845.  Any person may provide documentary evening bearing on the application to:
U.S. Department of Labor
Employment and Training Administration
Harris Tower
233 Peachtree Street, Suite 410
Atlanta, Georgia 30303
Phone: (404) 893-0101
Fax: (404) 893-4642